The Open Mobile Summit (November 29-30, San Francisco) is the biggest and best event for mobile product, mobile marketing and UX/Design executives in the world.

It attracts over 500 leading mobile executives from the most powerful, innovative and recognisable brands in the world, alongside mobile-first visionaries and app-idols, to explore how to create outstanding mobile products and create unique and exciting marketing experiences through mobile technology.



Complete your details on the right to reserve your brochure >>



4 in-depth tracks designed to give you a holistic view of mobile

Creating amazing mobile experiences isn't the responsibility of one department. Success hinges on uniting product, marketing, UX folks under one roof with common goals and access to the latest technology trends. Which is why the Open Mobile Summit is formed of 4 tracks, so you'll get to meet with – and learn from – the people who make mobile come to life!

Mobile Product: Unlock the potential of AI, monetize your product, and craft personalized products that wow customers and deliver exceptional experiences


Mobile Marketing and Engagement: Manage the dynamic between growth, engagement and retention, and create targeted, creative and personalized content that cuts through the noise


Mobile User Experience and Design: Utilize advanced analytics to recalibrate for success and define your brand through seamless and intuitive experiences that put an end to drop-off rates


Mobile Technology and Innovation: Discover a world of capabilities through technologies like VR, AR and voice and tap into the new streams of revenue, engagement and brand-awareness
Complete your details on the right to reserve your brochure >>



Speakers for 2017 Include:

Chief Product Officers, Chief Marketing Officers and Chief UX Designers as well as SVPs and VPs of Product, Digital Strategy, Mobile Marketing and Customer Experience - Giving you a senior-level view into the boardrooms of the world's most successful organizations. Companies such as: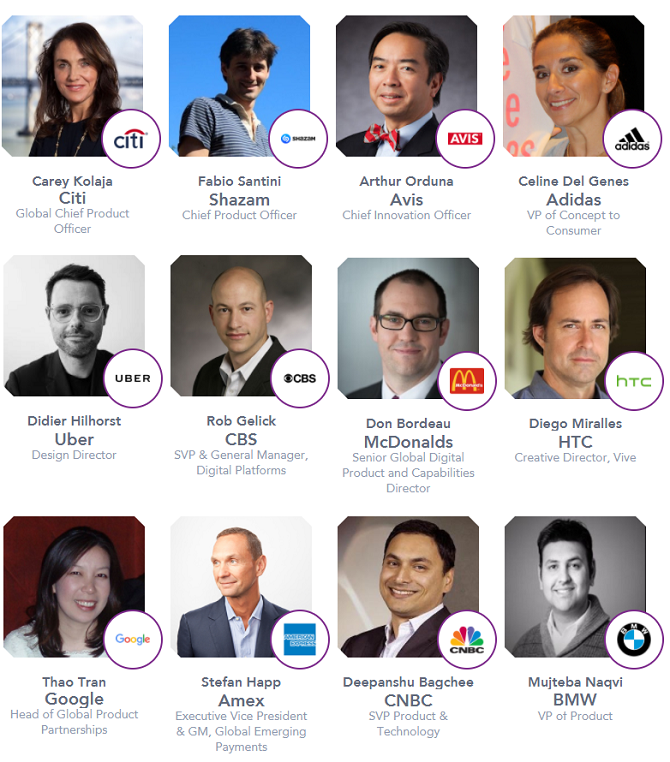 By downloading the brochure you'll find out:

Which brands will be there: More brand speakers and mobile-first powerhouses than ever before! Uber, Adidas, Citi, Shazam, Pandora, CBS, Avis, Google, BMW, Best Buy, Wells Fargo, Disney, Instagram, McDonald's, NFL, Lowe's, American Express, USAA, Forbes, CNBC, Facebook, Westjet, Marriott, The Huffington Post, John Deere, Esurance, HTC, Moovit, ExxonMobil, – to name a few – and with more speakers added daily it can only get better!


What they're speaking about: Our comprehensive agenda takes you through each of our 25+ sessions and hours of thought provoking case studies, keynotes and panels – our agendas are produced after months of painstaking research and are designed to cover all the most pertinent issues facing mobile today!


Who else is attending: With 500+ executives in attendance the networking opportunities are second-to-none. This is your only chance to meet the biggest names in mobile: product, marketing and design under one roof! Download the brochure and get a sneak peek at our audience breakdown
Plus, you'll also get access to exclusive Open Mobile Media content: You'll automatically get sent our exclusive whitepapers, speaker interviews, surveys, podcasts and discount codes before they're published online!

When you request the brochure you'll see the speaker line-up and topics for discussion the moment they are announced. And you'll also be first to hear about our early booking discounts and save money on conference passes.

Regards,

Josh Gordon | Head of Strategy
Open Mobile Media
(Global) T: +44 (0) 207 422 4348
E: josh@openmobilemedia.com / josh@incite-group.com


Download your brochure now to access the full agenda and list of speakers
Download your brochure and get the latest updates on:
Leading mobile executives confirmed to speak
The latest and greatest agenda case-studies, keynotes and panels
Exclusive discount codes you won't find elsewhere
Outstanding networking opportunities!
Open Mobile Media and Incite Group are trading names of FC Business Intelligence Ltd.
Registered in England and Wales no.4388971. Registered address 7-9 Fashion Street, London, E1 6PX, UK | Terms and conditions
Please note that by downloading this brochure you also subscribe to receive similar information from Open Mobile Media