The Open Mobile Summit (November 29-30, San Francisco) is the biggest and best event for mobile product, mobile marketing and UX/Design executives in the world.

It attracts over 500 leading mobile executives from a wide range of B2C brands and mobile companies to explore how to optimize your product and marketing experience through mobile technology.

Complete your details on the right and get instant access to the brochure >>

With 3 in-depth tracks designed to give you a holistic view of mobile

Creating amazing mobile experiences isn't the responsibility of one department. Success hinges on uniting product, marketing and UX folks under one roof with common goals. Which is why the Open Mobile Summit is formed of 3 tracks, so you'll get to meet with – and learn from – the people who make mobile come to life!

Mobile Product Track – Improve the customer experience through machine learning, personalization and contextualization and find out how to leverage behavioural analytics and testing methodologies


App Engagement/Mobile Marketing Track – Re-engage your app users and provide a fluid app experience, from acquisition all the way through to retention


UX and Design Track – Debate the future of IoT and voice on the mobile landscape and develop a cross-platform UX and design strategy, that is both consistent and scalable
Complete your details on the right and get instant access to the brochure >>
By downloading the brochure you'll find out:
Which brands will be there: This year, we've secured more B2C brand speakers than ever before:

Danone, Gap, Disney, McDonald's, USAA, NFL, Home Depot, Hulu, Google, Facebook, USA TODAY, Hyatt Hotels, AKQA, The New York Times, realtor.com, Kik, The Huffington Post, Sprig, The Washington Post

– plus many more - will all be there!


What they're speaking about: Our comprehensive agenda that takes you through each of our 25+ sessions and hours of thought provoking case studies, keynotes and panels – this agenda was produced after months of painstaking research and is a valuable piece of content in its own right!


Who else is attending: With 500+ executives in attendance the networking opportunities are second-to-none. Download the brochure now and get a sneak peek at our audience breakdown
Plus, you'll also get access to exclusive Open Mobile Media content: You'll automatically get sent our whitepapers, speaker interviews, podcasts and discount code before they're published online!

When you request the brochure you'll see the speaker line-up and topics for discussion the moment they are announced. And you'll also be first to hear about our early booking discounts and save money on conference passes.

Speakers for 2016 Include:

You'll get to hear from Chief Product Officers, Chief UX Designers as well as SVPs and VPs of Product, Digital Strategy, Mobile Marketing and Customer Experience - Giving you a senior-level view into the boardrooms of the world's most successful organizations. Companies such as: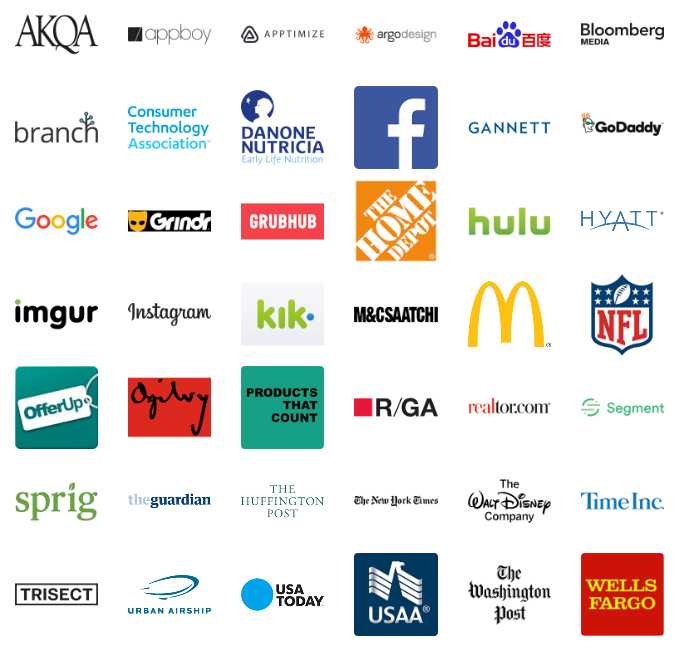 A 2-day agenda designed to solve the key issues facing the mobile industry
Bridge the gap between digital and physical: Provide a seamless mobile experience to your customers, complete with new services and new sources of revenue


Get to grips with new ways to communicate: Discover how innovations in machine learning, artificial intelligence, augmented reality and bots are set to impact brand strategies and transform consumers' lives


Push users to convert in-app: Optimize the mobile customer journey - improve discovery, inspire stickiness, increase loyalty and ramp up transactions


Validate, assess, redesign: Extract granular insights from user data and turn behavioral analytics and testing methodologies into tangible results and ROI


Be inspired by the latest in UX and connected design: Tackle the future of customer interaction, connected platform factors and user interface features


Inspire collaboration across development, design and marketing: Gain traction, wow your audience and galvanize your customers
Enter your details on the right to be the first to be sent all the latest updates about The Open Mobile Summit San Francisco 2016 >>>

This is the event to meet mobile product and marketing strategists from a wide range of B2C brands and companies to share and explore how to optimize your product experience through mobile technology.

All the best,
Helen


Download the brochure now to access the full agenda and list of speakers
Helen Raff
Chief Operating Officer
Open Mobile Media
Tel: +44 (0) 207 375 7582
Toll Free: 1 800 814 3459 ext 7582
helen@openmobilemedia.com



Open Mobile Media is a trading name of FC Business Intelligence Ltd.
Registered in England and Wales no.4388971. Registered address 7-9 Fashion Street, London, E1 6PX, UK | Terms and conditions
Request the Open Mobile Summit Brochure Here




















Complete your details below to request the full 10 page event brochure pdf, which includes:

Full speaker line-up and who you will meet
The complete agenda and key themes to be discussed
Networking opportunities throughout the two days
Information on registration discounts and pricing
An exclusive discount off registration